Trust grant supports Hampden sustainable community vision
2 Nov 2022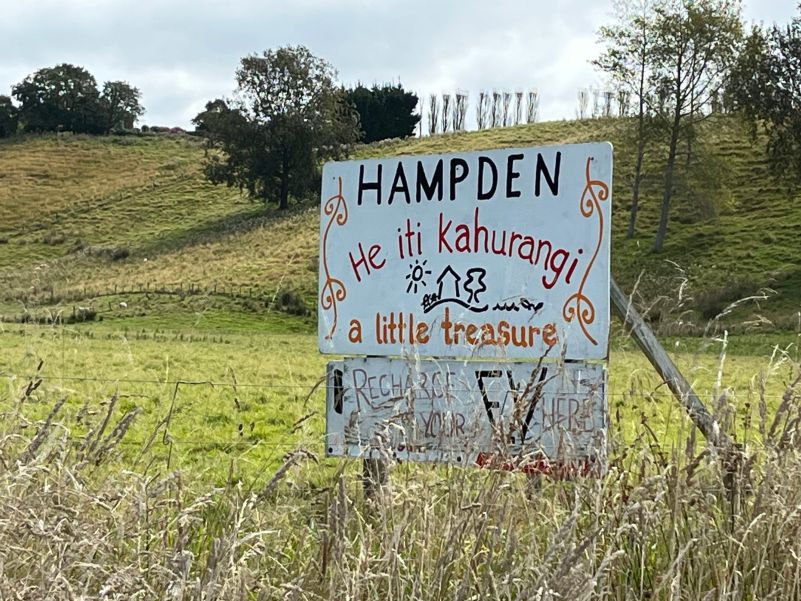 Media Release
The vision for a comfortable, attractive, versatile, and sustainable community building and garden in the small Waitaki community of Hampden received a substantial funding boost from the latest round of grants from Otago Community Trust.
Hampden Community Energy Society Inc was approved a $100,000 grant to support the new community workshop and garden complex. The new complex will provide a facility for school pupils and community members to work in a central place sharing skills, knowledge, and resources.  
Hampden Community Energy Society chair Dugald MacTavish said the project is being coordinated jointly between the Hampden school and local community and it is "just fantastic" to have Otago Community Trust's support and vote of confidence for this critical first stage.
"It's a three-stage project.  This first and most important stage, is the engineering, and craft workshop which will allow the group to get the project underway quickly and then be used to house the equipment and provide the space to help construct the other buildings."
Every day we hear more stories of social and economic stress. Our group thinks a good response to that is to build local capacity with facilities for creativity, skill sharing and simply enjoying each other's company within our village.   Our hope is that this workshop will help do that, said MacTavish.
Otago Community Trust chair Diccon Sim said that Otago Community Trust is pleased to be supporting this exciting community development in Hampden. 
It is a true community collaboration, that aligns well with all four of the Trust's new strategic pillars but especially 'Empowered Communities'. It is a project that will encourage collaboration, support local volunteering, and encourage community connection and social responsibility, said Sim.  
Whalan Lodge Trust in Kurow also received funding support for a large capital project that will support the expansion and redevelopment of the Awakino Wing of the Lodge, specifically the portico and courtyard dining and deck area.
Whalan Lodge Trust spokesperson Peter McIlraith said the Trust committee was delighted to hear that a grant of $180,000 had been approved.
"Whalan Lodge exists due to the commitment of the citizens of the area who give hundreds of hours of voluntary service for the establishment to survive. This community grant means so much to our small community."
We all know that the failure to keep up with the demand for aged accommodation and care has the potential to force many older rural people to live away from their immediate families, said McIlraith.
"Given the precarious state elderly care is in at present, our community has been determined not to lose this asset. Knowing that we are a step closer to advancing the redevelopment and increasing our capacity is rewarding to say the least."
Otago Community Trust chief executive Barbara Bridger said the Trust recently updated its funding policy in relation to rural health care facilities including aged care and rest home facilities to minimise the inequities rural Otago communities are facing in gaining access to health and aged residential care services.
"This is the first grant trustees have approved with the new policy in place. This rural district has only one rest home, there are no other like facilities in a radius of 60km." 
The Trust acknowledges that it is very important that our rural residents can remain within their own communities, retaining their dignity and remaining part of the community that they have supported throughout their lives, and we are pleased to support Whalan Lodge Trust continue to do just this, said Bridger.
Other organisations benefiting from grants in October included Te Kura Kaupapa Māori o Ōtepoti who received a $30,738 grant to support funding the Whare Hangarau programme focused on creating opportunities for rangatahi to start pathways into digital careers.
The Kaitangata & District Promotions Inc were awarded a $15,000 grant to assist with the cost of developing a memorial garden on the old Kaitangata Memorial Hall site and the Upside Downs Education Trust received $5,000 to support families receive speech and language therapy services for children with Down Syndrome.
In total Otago Community Trust approved just over $940,000 to 67 organisations in October 2022, this included Arts Capability funding of $60,000 to seven Dunedin based arts and culture organisations for capability-based initiatives in areas of governance and management. 
The contestable Arts Capability Fund is jointly run with the Dunedin City Council and is only available to Arts and Culture organisations based in the Dunedin City boundary which are committed to supporting and contributing to Ara Toi Ōtepoti: Our Creative Future - Dunedin's Arts and Culture Strategy.
Otago Community Trust Grants, October 2022

Alexandra

Central Otago A & P Association

$4,062

Balclutha

Kaitangata & District Promotions Inc

$15,000

 

South Otago Agricultural & Pastoral Soc

$2,000

 

Kaitangata Golf Club Inc

$3,000

Cromwell

Tarras School

$15,000

Dunedin

Otago Polytechnic - Pacific Island Scholarships

$10,000

 

Te Kura Kaupapa Māori o Ōtepoti

$30,738

 

Otago Youth Wellness Trust

$90,000

 

Santa Parade Trust

$15,000

 

CCS Disability Action Otago Inc

$17,500

 

Creative Arts Trust - Artsenta

$13,700

 

Anglican Family Care

$5,000

 

Dunedin Edinburgh Sister City Society Inc

$6,000

 

Dunedin Philippine Club Inc

$2,000

 

Waikouaiti District Museum Soc Inc

$1,000

 

Karitāne Bowling Club Inc

$2,000

 

SuperGrans Dunedin Charitable Trust

$10,000

 

Dunedin Musicians Club Inc

$4,905

 

University of Otago - Division of Sciences

$4,452

Milton

Tokomairiro High School

$23,000

 

Taieri Mouth Multisport Event

$863

Ōamaru

Whalan Lodge Trust

$180,000

 

Hampden Community Energy Society Inc

$100,000

 

Filipino Waitaki Incorporated

$5,600

 

Ōamaru Combined Churches Christmas Parcels Trust

$2,000

 

Waitaki Summer Music Camp

$2,500

 

North Otago Cricket Assn Inc

$2,000

 

Ōamaru Victorian Heritage Celebrations Committee

$8,000

 

Waitaki District Council - Community Events

$10,000

Otago

Skeggs Foundation

$33,180

 

Royal NZ Foundation of the Blind Inc

$10,000

 

Surf Life Saving New Zealand Inc

$25,000

 

Otago Softball Assn Inc

$6,000

 

Perinatal Mental Health New Zealand

$1,716

 

The UpsideDowns Education Trust

$5,000

 

People First New Zealand Inc

$2,000

 

Enabling Love New Zealand

$2,000

 

Maungatua Presbyterian Church

$3,000

Wānaka

Challenge Wānaka Sports Trust

$15,000

 

Kahu Youth Trust

$55,450

 

Mint Charitable Trust

$15,000

 

Hawea-Wānaka Pony Club Branch Inc

$5,000

 

Southern Lakes Model Fliers Club Inc

$2,000

 

Wānaka Preschool Early Childhood Centre

$5,672

 

Upper Clutha Historical Records Society

$2,500

 

Wānaka Associated Football Club Inc

$5,000
Otago Community Trust Arts Capability Grants, October 2022

Dunedin

Dunedin Midwinter Celebrations Trust

$5,440

 

Dunedin Fringe Arts Trust

$9,980

 

Dunedin Wildlife Trust

$10,000

 

iD Dunedin Fashion Inc Soc

$8,060

 

Dunedin Symphony Orchestra

$9,920

 

International Festival Environment Science Technology Dun NZ Inc

$9,000

 

Otago Festival of the Arts Trust

$7,600
Otago Community Trust Tamariki and Rangatahi Capability Grants, October 2022

Alexandra

Sticks n Stones Inc

$10,000

 

Journeys Charitable Trust

$2,255

 

Alexandra and Districts Youth Trust

$1,083

Dunedin

Creative Arts Trust - Artsenta

$10,000

 

Presbyterian Support Otago

$8,364

 

Te Hou Ora Ōtepoti Inc

$10,000

 

Adventure Development Limited (ADL)

$9,000

 

Dunedin Community Care Trust

$10,000

 

Inspired Faith Church - Dunedin

$8,000

 

Aroha Ki Te Tamariki

$10,000

 

Otago Youth Wellness Trust

$6,740

Otago

Royal New Zealand Plunket Trust

$3,800

 

Te Whānau Tupu Ngātahi o Aotearoa - Playcentre Aotearoa

$7,850

Wānaka

Kahu Youth Trust

$7,406