Trust earmarks $10 million to a suite of new funds in support of Otago's young people
29 Mar 2022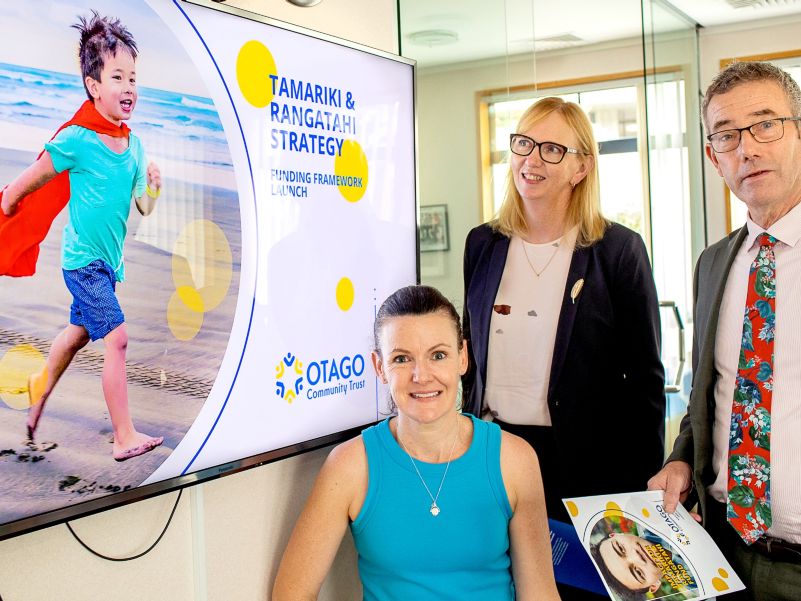 Media Release
Otago Community Trust has announced an innovative new suite of funds aimed at lifting the capability of young people in the Otago region. The Trust will invest up to $10 million over the next five years into organisations and initiatives that seek to support the regions young people.
Otago Community Trust chief executive, Barbara Bridger said in 2019 the Trust commissioned research into the youth sector in the Otago region.
"We gained valuable insights into how we may fund change and the potential of our youth into the future."
We learnt that investing in community building and the support structures that wrap around a young person's life plays a powerful and protective role for our children and young people, but current funding models do not resource or support this work well, said Ms Bridger.
Otago Community Trust chair, Diccon Sim said that the research allowed the Trust to refresh its overarching strategic plan and develop a new Tamariki and Rangatahi Strategy. To give effect to that strategy, the Trust has employed a dedicated Community Engagement Advisor and trustees and staff have worked together with the sector to develop this exciting suite of funds.
"A lot of work has been done in the background over a number of years - reflecting the Trust's strong commitment to fund strategically and ensure a lasting and beneficial impact for the region's young people."
The $10 million earmarked for the new suite of funds will be invested in organisations and initiatives aimed at raising resilience and increasing capacity among our region's tamariki and rangatahi - especially those addressing disadvantage, discrimination, exclusion, and those from the priority communities identified in the Trust's new strategic plan, said Mr Sim.
"This is an exciting move for the Trust, we know that by investing in our tamariki and rangatahi now, we will see a significant impact on all our futures."
Impact for Tamariki & Rangatahi Fund
The largest of the three new funds which will be open in April is the Impact for Tamariki & Rangatahi Fund, this fund will have an annual budget of up to $2 million. 
It is intended that this fund will provide a small number of high investment grants with a focus on supporting projects that have the potential to be game changing and deliver long term intergenerational change.
Otago Community Trust chair, Diccon Sim said as far as the Trust is aware, this will be one of the few funds of its kind in New Zealand that offers a significant amount of funding in a region to develop the capacity of children and young people.
"We know there is already a lot of incredible work happening in this space and we expect this funding to support and build on this work and foster greater innovation and partnerships in the sector."
Tamariki & Rangatahi Sector Capability Fund
The second new fund is a capability-based fund which will open 1 July 2022. The Tamariki & Rangatahi Sector Capability Fund will focus on supporting capacity building among those working with tamariki and rangatahi.
Grants will be up to $10,000, with larger amounts able to be considered for projects with significant potential for impact or which encourage collaboration between multiple organisations.
This fund is aimed at strengthening the governance and/or operational effectiveness of organisations, supporting investment in specialised training for management, staff and volunteers and enhancing cultural capability.
Rangatahi-led Fund
The last of the new funds to be launched in April 2023, will be a dedicated Rangatahi-led Fund. This fund will be for youth, by youth and with funding decisions guided by youth. This fund will be focused on empowering the region's rangatahi to initiate projects that are important to them.
Further details of this fund will be available in early 2023.
Otago Community Trust chief executive Barbara Bridger reiterated that beyond this new suite of funds focused on the region's children and young people, Otago Community Trust will continue to serve the communities of Otago and remain available to support a diverse array of charitable initiatives.
"We can't stress this enough. We will continue to support the grass roots organisations that contribute to the fabric of our community."
Otago communities and key stakeholders are welcome to contact the Trust with any questions they may have.