Trust donates $600k to Football South all-weather facility at Logan Park
7 Jun 2017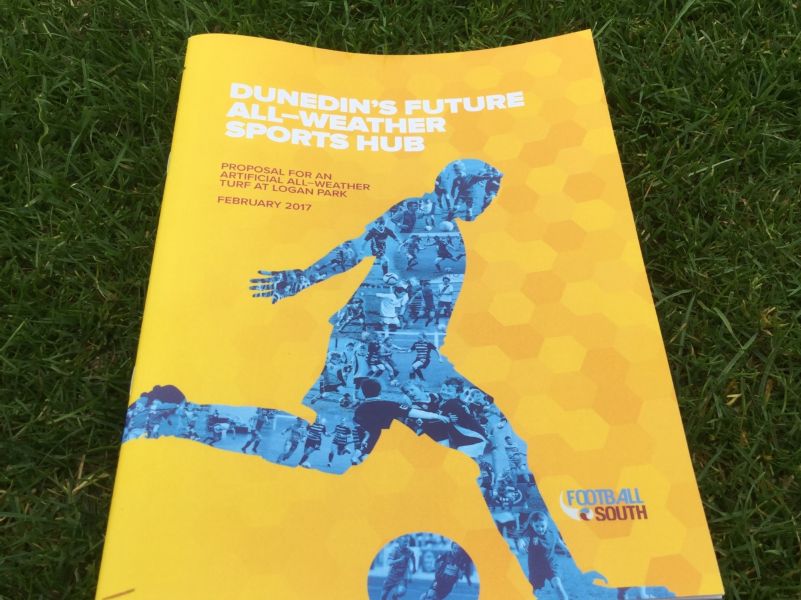 Media Release
Football South has been given a further $600,000 boost for its sport turf development at Logan Park after securing funding from the Otago Community Trust. The donation was approved at the Trust's recent board meeting, where trustees granted a number of sizable donations across the region.  
Chris Wright, chief executive of Football South said it has been a tremendous month for Football South, who are now over two-thirds the way to securing the funding required to build the all-weather facility on Logan Park.
"We've always felt that the project objectives align well with the needs of the community and we're delighted that the Otago Community Trust have committed to this level. It's starting to feel very real that multiple sports could be taking place on the finished facility in 12 months time."
The Waikouaiti District Museum Society also benefited from the recent funding round receiving a $100,000 donation to assist with the cost of constructing a new museum building "Exhibition Centre".
President of the Waikouaiti Coast Heritage Centre Bill Lang said the new purpose-built exhibition centre will be located behind the existing historic museum.
"We are delighted with the Trust's generous donation, the new exhibition centre will bring the history of the area to life, creating a sense of identity and place for the local community" he said.
The centre will house an exhibition gallery, collection storage, workshop, staff room and public research facilities. It will also act as a Visitor Information Centre and have space for the sale of local crafts.
Otago Community Trust, chief executive Barbara Bridger said "to date the Waikouaiti Museum Society has raised over half of the funds towards the $500,000 plus project, which is a tremendous effort for a small community."
Other organisations benefiting from sizable donations in May included the Fortune Theatre Trust, Otago Medical Research Foundation and the Routeburn Dart Wildlife Trust.
The $30,000 donation approved to the Routeburn Dart Wildlife Trust will assist with predator control along the Dart and Rees braided rivers. This will enable a bird focused conservation project commence along the rivers, consistent with the 'Bring Back the Birdsong' project advanced by the Department of Conservation.
In total, the Trust approved over $1M in community donations to 29 community groups across Otago.
Otago Community Trust Donations, May 2017

Alexandra

Central Otago Compassionate Friends

1,500

 

Alexandra Musical Society

6,500

Balclutha

Jennys Companionship Group Inc

3,500

 

Owaka Lions Club

12,463

Dunedin

Amputee Society of Otago & Southland Inc

500

 

Otago Polytechnic - Dunedin School of Art

750

 

University of Otago - South Island Brain Bee

1,000

 

Neptune Swim Club

2,500

 

Dunedin Tap Dancing Society

3,000

 

North East Valley Community Development Project

4,000

 

Life Education Trust Coastal Otago

10,400

 

Otago Medical Research Foundation

70,000

 

Fortune Theatre Trust

80,000

 

Football South

600,000

Mosgiel

Silverstream South Primary School

5,000

 

Mosgiel Elderly Care

8,000

Oamaru

Omarama School

5,000

Otago

Disc Golf Wanaka Incorporated

2,000

 

Rockquest Charitable Trust

4,000

 

Royal New Zealand Ballet

17,500

 

Skeggs Foundation

19,600

 

Routeburn Dart Wildlife Trust

30,000

Other

Institute for Child Protection Studies

5,000

 

Chamber Music New Zealand Trust

6,000

 

SPELD NZ

9,000

Waik/Palm

Big Steps Educare

2,200

 

Waikouaiti Playcentre

3,491

 

Katiki Point Penguin Rescue Trust

4,000

 

Waikouaiti District Museum Soc Inc

100,000