Holiday closure | Key dates
5 Dec 2022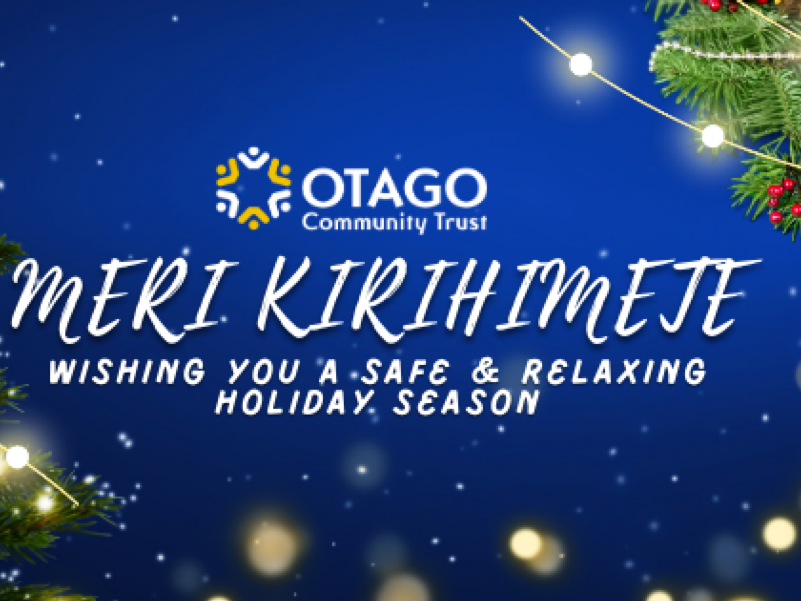 Announcements
As we look forward to enjoying a break over Christmas and New Year, we are pleased to share some key dates.
Holiday closure
Our last business day before Christmas will be Wednesday 21 December - we will be back at work on 9 January 2023.
Grant applications
Otago Community Trust wishes to remind all applicants that the Trust does not meet to approve grants in January.
Our first Board meeting to consider grants for 2023 is the 21st of February 2023.
Online applications received up to the last day in December are likely to be considered at the February Board meeting. If you have not completed an online application before then you need to register first, and it is good to do this as soon as you are thinking about applying to us. Please note that applications received in January 2023 will be considered at the March Board meeting.
The indicative timetable for 2023 is outlined below. The Trust usually takes 6 to 8 weeks to process an application and may not consider applications that need to be confirmed before this time.
Indicative Application Timetable is outlined as follows:
| | |
| --- | --- |
| Grant applications received in: | Decision date: |
| December 2022 | 21 February 2023 |
| January 2023 | March 2023 |
| February 2023 | April 2023 |
| March 2023 | May 2023 |
| April 2023 | June 2023 |
| May 2023 | July 2023 |
| June 2023 | August 2023 |
| July 2023 | September 2023 |
| August 2023 | October 2023 |
| September 2023 | December 2023 |
| October 2023 | December 2023 |
| November 2023 | February 2024 |
| December 2023 | February 2024 |
If you have a community project and / or event to be held in 2023 and would like to discuss it further with the Trust, please contact our team in mid Janaury 2023 on 0800 10 12 40 or email: info@oct.org.nz