Grants lend a helping hand to emergency service initiatives
8 Oct 2023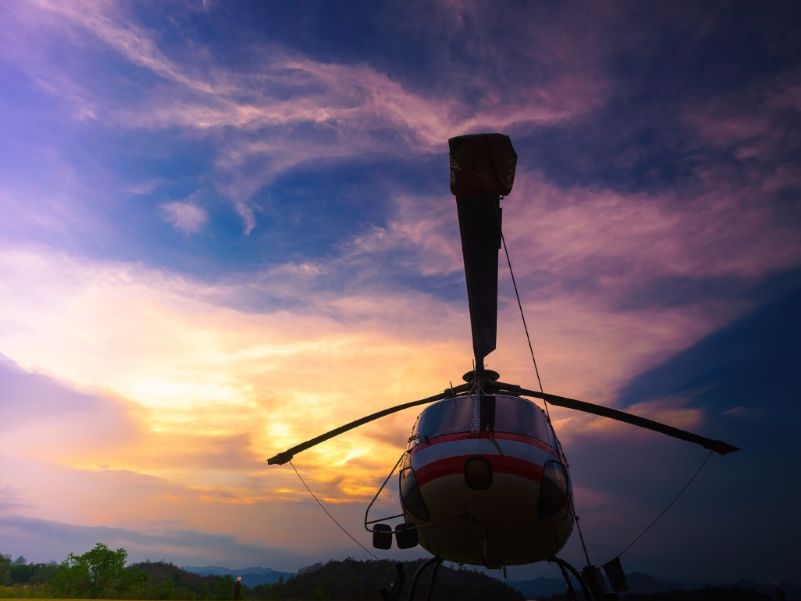 Media Release
Otago Community Trust approved funding of over $540,000 in support of a wide range of community projects at its September meeting, held in Oamaru last week. A focus of several of the successful applications was supporting initiatives that bolster local emergency service groups.
A $25,000 grant was approved to the Owaka Lions Club Charitable Trust which will support the club to build a purpose-built helipad for the Rescue Helicopter to land when patients need to be airlifted to Dunedin Hospital.
Station Officer with the Owaka Fire Brigade, Gordon Thompson said that at present we must land the helicopter on the local rugby grounds.
"If it is wet, the gurney can be bogged down and difficult to move and when working under the rotors, this can be dangerous to both the patient and emergency services personnel, not to mention that often the ambulance can't drive over the grounds due to the poor conditions."
The helipad will be installed on the right as you enter the Owaka recreation grounds / Search and Rescue carpark, it will be elevated and have landing lights and a windsock to guide the pilot, critically it will allow patients to be transported 24/7, Thompson said.  
"Thanks to the $25,000 grant from Otago Community Trust, an earlier $60,000 already raised by our local Lions Club we are delighted that we can now make a start on the project."
We know that the growth in tourism in the past few years has already generated a few issues and created pressure points in the Catlins. Ensuring that we invest in purpose built emergency services to support the community and the increasing visitor number is critically important, Thompson added.
The September funding round also saw the Upper Clutha Radio Telephone Users Assn Inc approved a $15,000 grant to assist with the cost of developing a duplex marine channel system for Lake Hāwea users.  The VHF channel 66 repeater station will be installed on Mt Roy in Wanaka to enable users of Lake Hāwea and surrounds to better link to Mt Roy.
Otago Community Trust chief executive, Jemma Adams said the Trust was pleased to be providing both groups with improved infrastructure and systems to enhance the capabilities of local emergency services such as Fire Brigade, Search and Rescue, and local Coastguard.
"Otago's diverse and vast landscapes can be hard to reach in emergencies and enhancing local communities' preparedness as best we can is vitally important, both these initiatives do just that which is great to see," Adams said.
Kaupapa Māori Health and Social Service provider Te Kāika also received a funding boost for its community Wellbeing Hub in the Trust's September granting round, a $307,000 grant was approved to assist with the fit out of the Wellbeing Hub - specifically with the specialist medical equipment required.
Otago Community Trust chair, Andy Kilsby said it was pleasing to be able to support Te Kāika with its vision of establishing a one stop shop where whānau can have all their needs met.
A key strategic focus of Otago Community Trust is to support our priority community groups where we can and this well designed, targeted, and inclusive Hub has the potential to have a long lasting, positive impact for improving and maintaining whānau wellbeing, Kilsby said.
Other organisations benefiting from grants in September include the Waikouaiti School who were approved a $42,000 grant to help with the development of installing a new pump track; the Oamaru Opera House Charitable Trust was approved a $8,000 grant which will assist with the cost of holding the Waitaki Arts Festival and the Blackstone Hill Cemetery Trust was approved a $1,000 to assist with the cost of repairing headstones at Blackstone Cemetery near St Bathans.
In total Otago Community Trust approved $544,160 to 26 organisations in September 2023.
This follows a year of strong granting, despite market volatility, as shown in Otago Community Trust's annual results, which were reported at the Trust's Annual Public Meeting held at the Oamaru Opera House last week.
Otago Community Trust were pleased to have approved $11.3 million in grants to over 400 Otago community groups for the year ending 31 March 2023.
Otago Community Trust chair Andy Kilsby noted that the Trust's investment portfolio experienced a difficult year, leading to an overall return of -2.5%.
"2022 was a difficult year for investors across the board, given global economic conditions."
While granting remained very strong, the Trust's net assets reduced to $284.9, down from $308.6m in 2022 and considering the ongoing volatility in market conditions prudence has led the Trust to reduce the general granting budget for the coming year, Kilsby said.
"Despite the challenges, we remain committed to supporting Otago communities and the wide variety of projects that continue to advance in and around Otago."
Otago Community Trust Community Grants, September 2023

Balclutha

Owaka Lions Club Charitable Trust

$25,000

Dunedin

U3A Dunedin Charitable Trust

$1,000

 

Grow NZ Inc - Dunedin Grow Centre

$500

 

Otago Youth Wellness Trust

$10,000

 

Waikouaiti School

$42,000

 

Otago Polytechnic - Pacific Island Scholarships

$10,000

 

Life Education Trust Coastal Otago

$15,000

 

NZ Family & Foster Care Federation Inc (Caring Families Aotearoa)

$1,500

 

Santa Parade Trust

$15,000

 

Athletics Otago Inc

$13,360

 

Te Kāika

$307,000

Milton

Taieri Mouth Multisport Event

$1,000

Oamaru

Excelsior Rugby and Associated Sports Club

$500

 

Oamaru Elim Church Trust

$7,000

 

North Otago Cricket Assn Inc

$3,800

 

Oamaru Opera House Charitable Trust

$8,000

 

North Otago Scout Zone

$7,500

 

Oamaru Victorian Heritage Celebrations

$8,000

 

Union Cricket Club (Oamaru) Inc

$2,000

Otago

Parent to Parent - Otago Branch

$5,000

Ranfurly

Blackstone Hill Cemetery Trust

$1,000

Roxburgh

Roxburgh Entertainment Centre Improvements & Promotions Inc

$10,000

 

Roxburgh Baptist Church

$25,000

Waikouaiti

Waikouaiti Volunteer Fire Brigade

$7,000

Wānaka

Wānaka Arts Society

$3,000

 

Upper Clutha Radio Telephone Users Assn Inc

$15,000