First Rangatahi-Led grants announced for Ōtepoti Dunedin
30 Jul 2023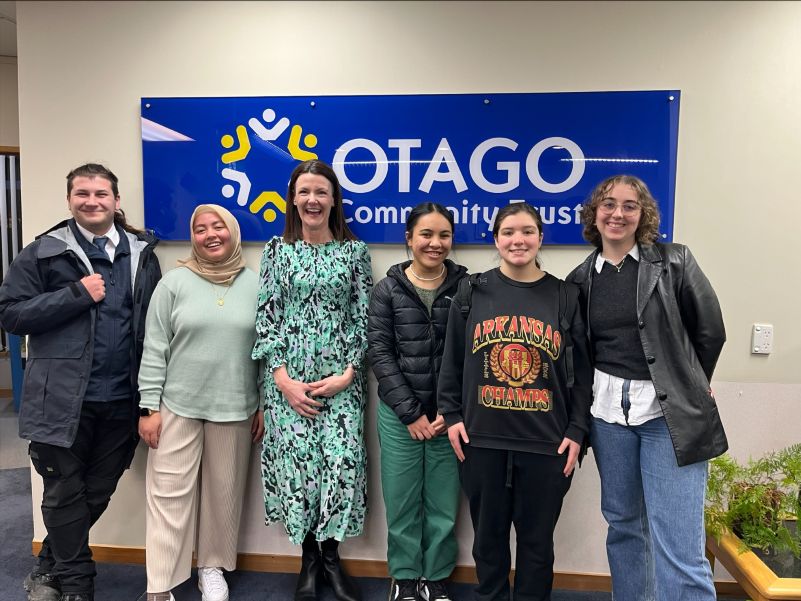 Announcements
Otago Community Trust has announced the first recipients of its Rangatahi-Led Fund. The Ōtepoti Dunedin Rangatahi-Led Fund opened in early June with the criteria to fund projects and events that were run by rangatahi; help rangatahi connect; promote diversity and provide new, creative ideas for youth engagement.
This is the first of four rangatahi-led funds launched by Otago Community Trust as part of its commitment in 2022 to fund rangatahi (young people) development activities under its tamariki and rangatahi strategy.
At the helm of the Ōtepoti Dunedin Rangatahi-Led Fund have been seven Dunedin rangatahi who have evaluated, assessed, and taken the lead on the funding decisions with guidance and support from Otago Community Trust.
Otago Community Trust community engagement advisor Liz Harburg, highlights that group members have been excited to be a part of the new fund, grow their leadership abilities and gain insight into the philanthropic sector.
"The rangatahi-led funds focus on empowering rangatahi to actively engage in the funding process, and to guide our funding decisions to enable the best impact for young people in their community."
In total ten applications were received and a shortlist of 8 youth-led initiatives will receive grants totalling $25,000.
Otago Community Trust chairman Andy Kilsby said the Dunedin Rangatahi Led Fund grants exemplify Otago Community Trust's commitment to supporting youth-driven initiatives that enrich and strengthen the community. The trust remains dedicated to fostering the potential of young leaders and is exciting to see the first of our youth-led initiatives approved.
"These grants aim to empower young individuals and provide them with the resources they need to bring their ideas to life."
The following projects received funding: Passion, Pitch, Enrich; Hold on to Your Friends; Rangatahi Events at Yours; Dunedin Pride Youth Ball (Dunedin Pride); Wheako Fair (Greater Green Island Community Network); Multicultural Intelligence Development (Otago Girls High School); Youth Networking and Dialogue Session (Pakistan Association of Otago); TANK – Trans and nonbinary kids (Able Minds Southern).
Otago Community Trust Dunedin Rangatahi Led Fund Grants, July 2023

Youth Networking and Dialogue Session

A networking session between youth, senior civil servants, and leaders in the private sector. Aims to foster collaboration and exchange of ideas between youth and experienced professionals.

$2,500

 

Multicultural Intelligence Development

An event to teach/train high school girls to understand and respond to complex, multicultural situations. Including speakers and cultural performances.

$3,400

Hold on to Your Friends

Creating a "Flat Chat" video series to be released via YouTube and other social media platforms to spark a conversation around student safety in Dunedin.

Hold on to Your Friends aim to do this by working with 2 handpicked 2nd year flats in the Castle Street area and facilitate an open forum discussion surrounding student safety, wellbeing and culture (with guidance from Student Health).

Other events including regular Castle St clean ups.

$4,000

TANK – Trans and nonbinary kids

TANK is a safe space for trans and gender diverse youth to connect. It is youth facilitated with support from Able Minds Southern. They meet fortnightly and sometimes have guest speakers. Funding is for games and resources, speaker fees and marketing and promotion.

$3,000

Wheako Fair

 

A group of 9 Concord Primary students who are working with GGICN Youth Worker. They are planning a fair for students at their school.

$500

Dunedin Pride Youth Ball

A ball for under 18 queer and gender diverse rangatahi

$4,500

All Ages Gigs

A series of three all ages gigs to be held at "Yours"

$4,100

Passion, Pitch, Enrich

 

Mana Rangatahi members and Fringe Arts Trust will host an event where young people showcase their talents and discuss the support, they need to pursue their talent further.

$3,000