Boost for environmental education and community initiatives
2 Aug 2023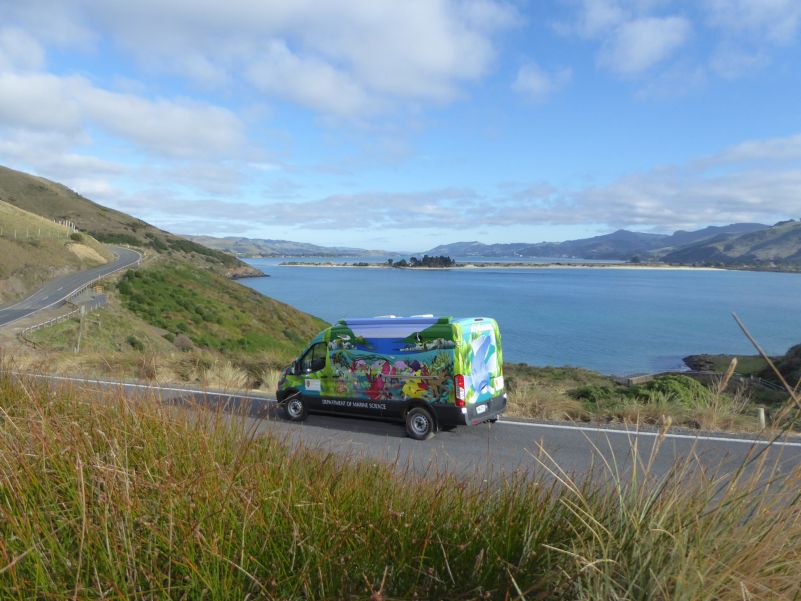 Media Release
Otago Community Trust has funded over $278,000 in support of a wide range of community projects in the Trust's July funding round. Several of the successful applications for funding were for initiatives and programs to educate Otago communities and future generations on environmental sustainability and regenerative futures.
The University of Otago - Marine Studies Centre received a $20,000 grant, which will assist with the cost of delivering the Marine Studies Centre's Aquavan outreach program. The Aquavan is a purpose-built vehicle that transports marine animal and plant collections for teaching and research out into the community.
"We were thrilled to learn of the support we'll be receiving from the Otago Community Trust," said Sally Carson, director of the New Zealand Marine Studies Centre.
"This generous grant ensures we can deliver our unique mobile marine education program to Otago communities and schools, improving understanding of connections between inland environments and marine ecosystems, and developing future generations' skills for environmental action."
Otago Community Trust Chair Andy Kilsby noted that trustees had the pleasure of visiting the Marine Studies Centre late last year, gaining firsthand insight into the focus of the outreach program and how it provides a dynamic way of creating awareness around the importance of healthy waterways and how that affects coastal areas.
"What impressed us was how the program has a strong emphasis on empowering communities to regain their roles as guardians of their environment, naturally we are very pleased to be providing funding support to further the programmes reach in Otago," said Kilsby.
A $25,000 grant was approved to Wao Aotearoa to support the delivery of its 2023/2024 programs, including the increasingly popular Wao Summit.
Wao Aotearoa is a Wanaka-based collective dedicated to educating, inspiring, and enabling New Zealand communities to transition towards a carbon-zero, regenerative future.
Otago Community Trust grants manager Sue Stewart said the grant from the Trust would allow Wao Aotearoa not only to deliver the 2023 Wao Summit but also continue to build capability within the community through practical workshops and create resilient systems through their Climate Action and Get SMART initiatives, Food Resilience Project, and Better Building Working Group.
Several iconic Otago events also received a funding boost from the Trust in July.
A $15,000 grant was approved to Caversham Harrier & Athletic Club Inc to support the 2023 Dunedin Marathon; The Winter Games NZ Charitable Trust received a $20,000 grant to assist with the 2023 Winter Games, which commences in late August, and after a four-year hiatus, the Port Chalmers Seafood Festival will return with Port Chalmers Seafood Festival Incorporated approved a $15,000 grant to support the increasingly popular Dunedin event.
Additional grants awarded around the region included the Alexandra Musical Society Inc, which received an $8,000 grant to assist with the cost of staging their Mamma Mia production. Balclutha Gymnastics Club Inc was approved a $2,000 grant to support the purchase of new parallel bars for the club, and the North Otago Art Society Inc was approved a $5,000 grant to assist with the upgrade of the gallery's utility room.
In total, Otago Community Trust approved $278,888 to 36 community organisations in July 2023.
Otago Community Trust Community Grants, July 2023

Alexandra

Flames Ice Hockey Club

$2,000

 

Alexandra Musical Society Inc

$8,000

 

Clyde Primary School

$10,000

Balclutha

Balclutha Gymnastics Club Inc

$2,000

 

Clutha District Council - Owaka Community Centre

$6,390

Dunedin

OurSight

$1,000

 

Otago Fish & Game Council

$1,879

 

Dunedin Community Mediation Assn Inc

$2,160

 

Dunedin Philippine Club Inc

$2,245

 

West Harbour Arts Charitable Trust

$2,500

 

The Port Chalmers Foundry Society

$3,000

 

Village Agrarians Charitable Trust

$3,726

 

Dunedin Tracks Network Trust

$4,000

 

Otago Hockey Assn (1990) Inc

$5,000

 

Parafed Otago

$5,000

 

Otago Touch Assn Inc

$5,000

 

Citizens Advice Bureau - Dunedin

$12,000

 

Port Chalmers Seafood Festival Incorporated

$15,000

 

Caversham Harrier & Athletic Club Inc

$15,000

 

Straight Up Trust

$40,000

Mosgiel

Mosgiel Piping and Dancing Society

$1,308

Oamaru

Lower Waitaki Golf Club Inc

$3,500

 

Janet Frame Eden Street Trust

$3,500

 

North Otago Art Society Inc

$5,000

Otago

Netball South Zone Inc

$2,000

 

The CanInspire Charitable Trust

$2,500

 

Show Me Shorts Film Festival Trust

$3,000

 

Volunteer South/Kaituao o te Taitonga

$4,080

 

Volunteer South/Kaituao o te Taitonga

$7,500

 

Eduk8 Otago

$9,000

 

Otago University - Marine Studies Centre

$20,000

Waik/Palm

Waikouaiti Golf Club Inc.

$6,600

Wanaka

Wanaka Musicians Incorporated

$5,000

 

Te Kura O Take Kārara

$15,000

 

Winter Games NZ Charitable Trust

$20,000

 

One New Zealand | Wao Aotearoa

$25,000