Otago Community Trust
The Otago Community Trust is a philanthropic organisation which applies its Trust funds for charitable and other purposes which are of benefit to the community.
The Trust provides donations across the diverse sectors of art & culture, heritage, events, environment, education, sport and recreation and community activity and community wellbeing.
Since its beginning, the Trust has distributed in excess of $145 million to communities across Otago. You can find information about applying here.
Making a Difference across Otago
Central Otago multi-million dollar cycle trail project gets financial backing
A $26.3 million project to connect Central Otago's trail network and create 500 kilometres of continuous trail network will be a "game changer" for the region. Prime Minister and Tourism Minister John Key announced at a function in Bannockburn on Sunday the Government would commit around $13 million towards the project, with the Central Lakes Trust contributing $11.15m and the Otago Community Trust contributing $2m.
"The proposal to create a 536kim continuous cycle trail network by linking four existing Central Otago Great Rides - the Queenstown Trail, the Otago Central Rail Trail, the Roxburgh Gorge Trail and the Clutha Gold Trail - is the type of enhancement to the Great Rides we want to encourage."
Budget 2016 would provide $25 millon in additional funding over the next four years to ensure the New Zealand Cycle Trail, Nga Haerenga, continued to offer a world-class experience, Key said.
The investment was part of a $45 million tourism package in Budget 2016 to further support tourism's contribution to economic and job growth in regions across New Zealand.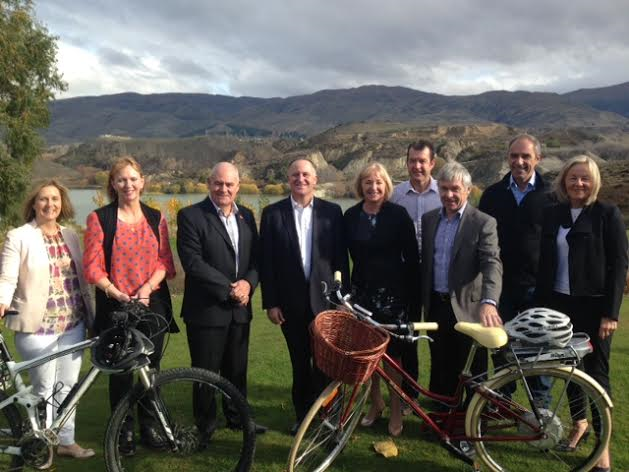 Make sure to visit our Facebook page and sign up for our quarterly newsletter.
Find out more about the local community projects we support through donations.
Latest News
The Otago Community Trust was thrilled to present Highlanders coach Jamie Joseph with the Otago Community Trust Otago Coach of the Year award at the recent ASB Otago Sports Awards. Joseph has coached the Highlanders team for five and a-half years and will leave to coach Japan after the finish of this year's Highlanders season.
Read more
The Otago Community Trust is pleased to announce it has donated $400,000 to 10 social services organisations in April. Barbara Bridger, Chief Executive comments that "the social services sector is one of our most challenging sectors when it comes to funding.The needs across Otago are not diminishing, we know and appreciate that our social service agencies are constantly encountering increased demand for services and intervention, all whilst the funding landscape is under review". Read more