Otago Community Trust
The Otago Community Trust is a philanthropic organisation which applies its Trust funds for charitable and other purposes which are of benefit to the community.
The Trust provides donations across the diverse sectors of art & culture, heritage, events, environment, education, sport and recreation and community activity and community wellbeing.
Since its beginning, the Trust has distributed in excess of $145 million to communities across Otago. You can find information about applying here.
Empowering Otago Communities 
Closing Date - Large Donations $100k +
The Otago Community Trust has two rounds of applications for donations over $100,000; the next closes on the 31st March.
For donation applications of this size, we advise that you ring the Trust office to discuss the project with a Donations Advisor before submitting the application. Decisions can be expected from June onwards.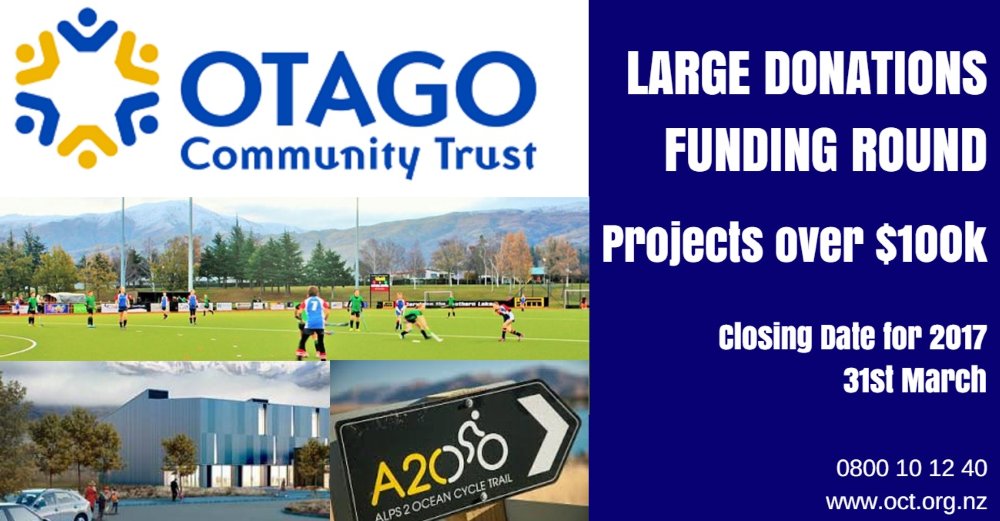 Make sure to visit our Facebook page and sign up for our quarterly newsletter.
Find out more about the local community projects we support through donations.
Latest News
The Otago Community Trust is pleased to be once again providing funding support to The Parenting Place – Attitude Division'. The $6,000 donation granted in November 2016 will assist with the cost of presenting the Attitude Programme in Otago schools this coming year. The programme for 2017 is entitled 'Being Me' and provides a guide to friends, identity, puberty and technology.
Read more
The Otago Community Trust is delighted to confirm that it will be supporting up to ten people from rural Otago to attend the 2017 National Rural Health Conference in Wellington (March 30 - April 2) with a scholarship fund of $10,000. The scholarship will be $1,000 per person to be used towards the registration fee, flights and / or accomodation.
Read more