Otago Community Trust
The Otago Community Trust is a philanthropic organisation which applies its Trust funds for charitable and other purposes which are of benefit to the community.
The Trust provides donations across the diverse sectors of art & culture, heritage, events, environment, education, sport and recreation and community activity and community wellbeing.
Since its beginning, the Trust has distributed in excess of $145 million to communities across Otago. You can find information about applying here.
Empowering Otago Communities 
2016 Annual Report 
Our 2016 Annual Report was released on Wednesday 10th of August. We hope you enjoyed learning about how we have served the Otago community over the last 12 months - year ended 31 March 2016. While we can't profile all your wonderful community stories, we hope you enjoy those that were chosen. The digital version of our Annual Report is now available on our website.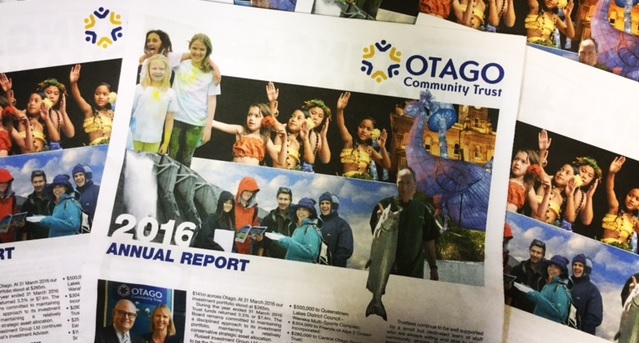 Make sure to visit our Facebook page and sign up for our quarterly newsletter.
Find out more about the local community projects we support through donations.
Latest News
Entries for the 2016 Westpac Otago Chamber of Commerce Business Awards are open. The Otago Community Trust is delighted to be once again sponsoring the Not for Profit Award. Here is your chance to enter this year's Awards and become recognised for the great work you do. You do not have to be an Otago Chamber of Commerce member to enter the Awards. Closing date for ENTRIES is THURSDAY 25TH of AUGUST 5PM
Read more
The Otago Youth Wellness Trust will be holding a symposium on the 1st of September entitled "ADOLESCENCE" – A window of opportunity". 'Come and hear keynote speakers, including the new Children's Commissioner Judge Andrew Becroft.
Read more