Grants Portal - Handy Tips
Handy Tips to Note
When you login to our new Grants Portal, you will be taken to the Welcome page of the Otago Community Trust Grants Portal where you can:
Log-in to the Grants Portal
Reset or create a password
Take our New Organisation Eligibility Quiz
Register in the Portal for the first time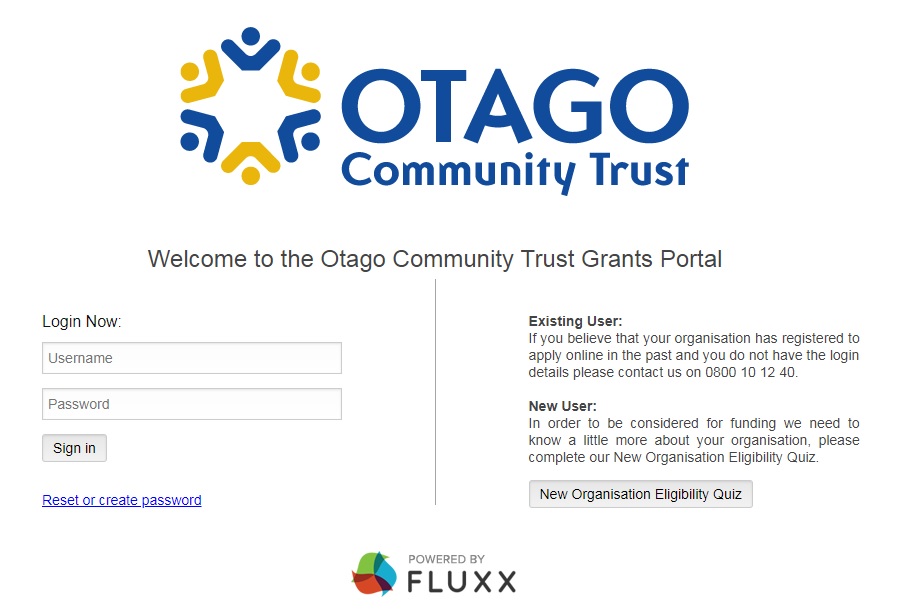 When you are in the Grants Portal it is recommended that you:
Use Google Chrome as your internet browser.
Save your work regularly, as the forms do not auto-save;
Do not use the back button to navigate as it will take you out of the Grants Portal and you will have to log back in;
Only 'Submit' when your application is complete. Once you 'Submit', you will no longer be able to edit;
When you have completed your editing, always 'Save' before returning to the main page.
When we have updates for you, a notification icon like this  appears next to the area with an update waiting.
Click on this icon  at the bottom of the menu to log out or change your password.
Online Guides 
1. OCT Application Guide 
To help you through the process you can download our Applying Online Guide 
2. OCT Picking up your Grant Guide
To help you pick up your grant upon approval you can download our Picking up your Grant Guide 
3. OCT Completing Your Accountability Guide
To help you complete the accountabilty requirements you can download our Completing Your Accountability Guide
Grants Portal  - Questions and Answers
We recognise that any changes can take some time to get used to. We have compiled Questions & Answers to help, these will be added to over the coming month as we receive feedback on the new system. If you experience any issues with your online application, please call us on Freephone 0800 10 12 40 or Email: info@oct.org.nz